Transport Links


Click 'go' for the Ribble Valley Rider Information page

Travel SuperStar Class, you deserve it
The Ribble Valley Rail Website can be accessed by clicking the train icon below.
There are connections from Blackburn west to Preston and Blackpool, and east to Colne and the Transpennine services to Yorkshire
Click the above icon to Check out the nearby Settle - Carlisle Line.
Timetables are displayed at all stations along the line. You can also get your personal copy from Clitheroe Interchange and from staffed stations on the route.


For journeys from Clitheroe to a range of Lancashire destinations, click on the Red Rose. Journeys can be by Rail or Bus or a combination.

For a range of journey destinations outside Lancashire, click the icon.

Click for Railway Timetables on the Net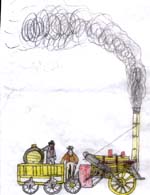 Click the drawing to link to the Trainline, for National Timetables and Tickets.