Gordon's Rocking Horses
Chatburn is the home of Gordon's Rocking Horses. All Gordon's horses are individually hand crafted from either air or kiln dried timbers and come with hand made accessories and fittings.
The body of the horse is carved from either North American Tulip wood, Yellow pine or English lime. They all have legs of beach for greater strength, with each leg morticed or flat jointed into the body block, the neck and head are doweled into position. Each horse is then glued and bolted together using 3/8" bright steel rods to give lasting stability and strength, and of course, a long life.
The Stands and rockers can be made from Oak, Ash, Beach or Yellow pine, each with hand turned pillars. All brass work and fittings are unique to Gordon's Rocking Horses and are individually made in our own workshop.
Tails and manes are made from real horse hair and we have a large selection to choose from, they are all tanned 'in house', be it whites, greys, chestnut or blacks. The eyes are glass and are individually painted to match each horses character and colour.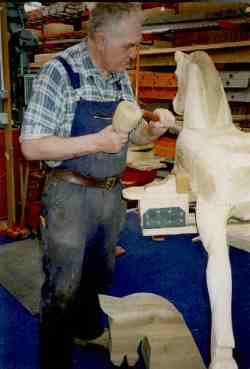 On completion of the carving process each horse is sanded to give a very smooth finish and then up to eight coats of gesso are applied, the horse is then left to dry and harden for a few days before being sanded smooth again. The horse is primed and undercoated before the top coat and dappling colour work is carried out.
Once the colouring work has been completed the horse is ready to have its tail and mane, saddle and tack fitted. The tails and manes are real horse hair, which are carefully matched to the colour of the horse.
The leather work is unique to each individual horse, be it an elaborate western saddle or an Australian stockman's Saddle, the quality does not vary. The saddles and tack, which ever style is chosen, can be made fixed or fully removable.
Inside each horse is a hollow time capsule where details of the owner (photographs, names or other trinkets and mementos can be left) for future generations to find.
Gordon makes Rocking Horses for friends and family. If you need any help or advice please get in touch, he will be only too happy to help.
I hope this gives you an insight into the makings of Gordon's beautiful horses. If you wish to see one of his horses, there is one on display at his small work shop and home, by appointment only please.
Tel: 01200 44 17 92.