Ribblesdale Camera Club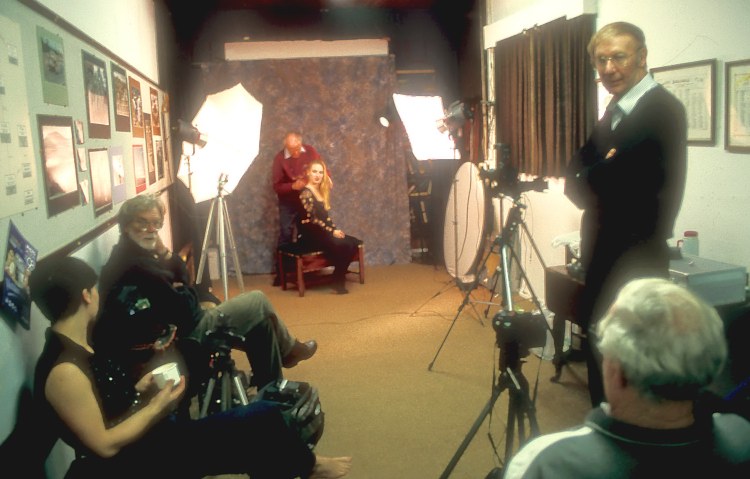 Clubroom portraiture session

Meetings are held every Tuesday in the winter at 7:30 in the Old Telephone Exchange, Ribble Lane, Chatburn. Summer meetings may be outside the clubroom. More information and questions answered by Ken Geddes on 01200-423474. Or why not call in one Tuesday evening and attend a couple of meetings before joining. Subscriptions are payable at the start of the season, but work out at only about £1 a meeting. No entry fee, but 35p for tea and biscuits isn't excessive either. All interests are covered. Some members probably don't have a camera, but just enjoy the meetings! Those that do take photographs have everything from cheap compacts to expensive film and digital cameras. We cover both. If you feel like improving your photography, see how our expert lecturers do it or ask our friendly members. Soon you will be showing us!
| | | | | |
| --- | --- | --- | --- | --- |
| Date | Meeting | Speaker, etc | From | Type of meeting |
| April 6th | China revisited | Ken Geddes, LRPS | Clitheroe | Travel lecture with music and actual sounds. SW to NE China and Inner Mongolia. Audiovisual |
| April 13th | An audiovisual extravaganza | Frank Barnes, LRPS | Clitheroe | A series of "produced" presentations, many local with sounds and commentary |
| April 20th | Annual General Meeting | | | A chance to get on the committee or at least have your say! |
| April 27th | Digital Prints | Christine Widdall, CPAGB | Saddleworth | Demonstration of prints by one of the North West's best photographers and a demonstration of how she does it. |
| May 4th | Pictures from Places | Jon Allanson, LRPS, CPAGB, BPE* | Cheadle | Travel |
| May 11th | Slides from the London Salon | | | International slides from the world's premier exhibition. |
| May 18th | Chairman's Evening | Jeff Cowling | Grindleton | Own choice |
| May 21st | Annual Dinner | Tbc | Tbc | Congenial Meal in the Moorcock and presentation of the trophies from the Annual Competitions |
| May 25th | ICPA Mono Prints | Folio | | The best of east Lancs. Black-and-White prints from the annual competition |

Our clubroom is owned by us and can be used by the members outside of meeting times. Club members are also entitled to attend meetings, competitions and seminars organised by the Lancashire and Cheshire Photographic Union and the Royal Photographic Society.
Some recommended links